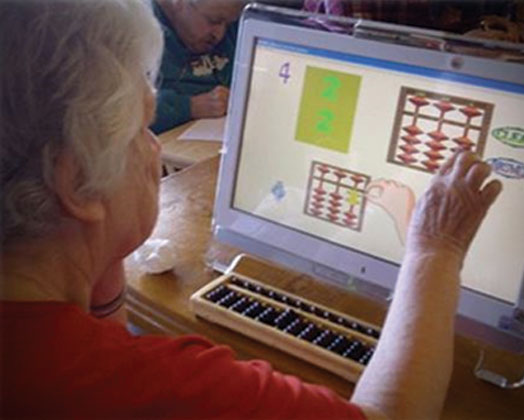 A unique brain training program that stimulates the three senses (sight, hearing & touch), for seniors and people with cognitive impairments. We offer group and 1-on-1 training at long-term care, adult day programs, retirement residences, and senior centres. Our program is available to independent seniors at our facility in Uxbridge.
Testimonials on our Brain Stimulation Training Program
"ReachView Village utilized the services of the ABS Abacus Brain Study in Uxbridge throughout the duration of 2014. Annie and her team provided excellent programming to our residents on a weekly basis. Annie was able to adapt the Abacus program to meet the varying cognitive needs of our residents and provided monthly updates on their progress and involvement in the program. The residents at ReachView benefitted from this program and I would recommend Annie and her team at the ABS Abacus Brain Study."
Erin Matresky
Recreation Manager & Volunteer Coordinator
ReachView Village

"I will always remember the part you played in helping me to make his (Peter's) life enjoyable. Many thanks to you both (Agnes & Annie) for your time and caring given to Peter, as well as your kind words. He enjoyed his time spent with you both until, because of his cognitive decline, it was too hard for him." Peter Guinane (1937 - 2013)
Carol Guinane, January 2014
"I've been with Annie & Agnes for a year now. For me, the reason of showing up at their school was because I went through an unexplainable occurrence. I was chalking (scoring) a game of darts, and the score thrown was 79, I turned to the chalk board and my mind was blank. I didn't know what to do with the number, and quite frankly, scared me quite a bit. Fortunately, I read an article about Abacus and approached them at their Uxbridge facility, and enquired if they could help me. Their response was very favourable and felt they could help me. I can score again, I'm not near as fast as I use to be, but I am scoring. You have to commit yourself and do your homework. Annie and Agnes are very patient and receptive to your needs. In closing, for what it's worth, I was a Construction Estimator, calculating projects in millions of dollars, and mentally doing math was a daily routine for me. It's been quite a struggle for me, but well worth it."
C.J. Fleming, April 2014
Talk show host on daytime Rogers TV interviewed Annie Hardock and Jim Fleming on how abacus training has benefitted seniors.