---
Pine Grove United Church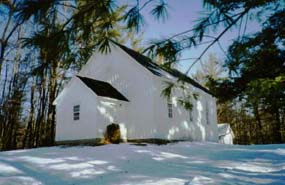 Located on Concession 7, north of Durham Regional Road 21, the Pine Grove Church has a history that goes back to 1868, when Pine Grove became the "Wilderness Appointment" on the Uxbridge circuit.
Pine Grove was served over the years by ministers, laymen, and the the Uxbridge Businessmen's Bible Class. For almost ten years, the congregation probably met in the Pine Grove School. In 1878, land for a building and burial ground was given for one dollar by Maria and Edward Major, and the present frame church erected.
In June of 1953, a "Cross of Remembrance" was raised in the Pine Grove Cemetery. Its inscription reads, "To the Glory of God, To Honour all the unknown and unmarked graves of the Pine Grove Pioneers".
This church became a United Church in 1925, and is still open for service and wedding ceremony. The church was used in serveral episodes of the famous Canadian TV series "Road to Avonlea" (1989-1996).
---






Reference: The Churches of Uxbridge-Scott By Allan McGillivray
Photo by Kimberley Kelland
&copy 1996 - Uxbridge On-Line Inc.