COMMUNITY EVENTS
Saturday June 13, 2015
11:00am - 3:00pm
HOW-TO in 10 Festival and Road Show

Uxbridge Public Library
9 Toronto St. South

Durham Region Libraries will be hosting the third annual, award winnin
g, How-To in 10 Festival and Road Show, at six Library locations across the region on six dates. The festival grew from the idea that people love to learn new things but never have enough time. We decided that we could make learning new and useful skills easy, fun, free and convenient by holding a How-to in 10 Festival where people come together to learn new things and have a great time in the process. The various Library festivals will take place over different time spans from May to June. Visit www.howtoin10.com for more detailed information and a list of previous vendors and pictures. The events have had tremendous exposure across the region. Local media has done several features, the Ontario Library Association featured it at their annual super conference this year and we won an award from the Durham Art of Transition Creative Awards for best in Festivals and Events. The Uxbridge Public Library's event will be Saturday, June 13 from 11:00am-3:00pm.
Saturday July 11, 2015
10:00am - 5:00pm

19th Annual Gardens of Uxbridge

This self-g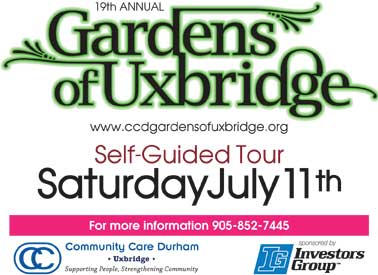 uided tour offers a variety of gardens, from urban to rural. Your ticket allows you to see private gardens that otherwise would not be open to the public, and are chosen for their diversity in style, size, setting and site conditions. The homeowner is customarily available to share experiences, expertise and to answer questions. Tickets are $25.00, which includes a delicious homemade box lunch to take on the road or enjoy at the Uxbridge Seniors Centre (75 Marietta Street, Uxbridge). Purchase tickets by July 8 to be entered for a chance to win our Early Bird Draw, dinner for two at the Tin Mill Restaurant, Uxbridge. Tickets are available by phone (905-852-7445
905-852-7445) and after June 1 at following locations: in Uxbridge at Blue Heron Books and the Tin Mill Restaurant; and in Port Perry at Branching Out. On the day activities include a raffle for a chance to win a great garden-related prize. All proceeds from the garden tour go to support the programs of Community Care Durham, a multi-service charitable organization offering services to more than 8,000 adults and their caregivers with needs related to aging, physical and/or mental health. Participating in a garden tour is a great source of entertainment even if you are not an avid gardener. Observing others' gardens can give you encouragement and lots of ideas to use in your own garden. Use this break from your own garden to rejuvenate your enthusiasm and interest.
August 15 - 16, 2015
10:00am - 5:00pm

Elgin Park, Uxbridge

21st Annual Uxbridge Lions Art in the Park
September 11, 12 & 13, 2015
Elgin Park

Uxbridge Fall Fair